15 Mar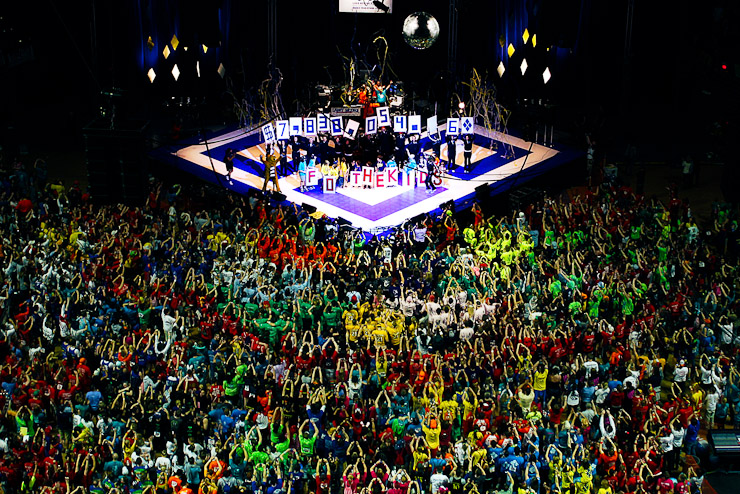 (Canon EOS 40D, 35 mm, 1/40, f/5.6, ISO 400)
Well, THON 2010 came and went.  I took off from work early and drove through 4 rush hours (DC, Baltimore, North Baltimore/PA, and Harrisburg) to get there in time to photograph it.  My main objective this year was to improve upon my time lapse film from last year's THON 2009.  The plan was to create more of a short film this year composed of numerous time lapse angles of different things.  I purchased a bunch of equipment, including a new rotating tripod head to be used for slowly rotating time lapse shots.  I will go more into detail about the behind-the-scenes of this shoot in a future post. I captured over 13,000 images that I stitched together in the film below.
I have to thank Scott Lukas for being such an incredible help to me all weekend.  I could not have made this film without him.  He helped me position cameras, started cameras for me when I was sleeping, and coordinated his whole stage crew to aid me.  The crew was awesome and they did a great job not only helping me, but working behind the scenes at THON.  At the end of THON, I had two cameras set up in remote, hard to get to, positions.  Of course, things also got crazy for them at the end of THON with everything else that was happening on the floor.  Within 10 minutes, I had to position a camera in the catwalk, start it, move it once everyone sat down, and then rush down to the floor so that I could shoot the end with a handheld camera.  At the same time, another camera that I had positioned 10 feet above the concourse had to be started with a ladder that we had hid on the other side of the arena.  Without a LOT of planning and the crew's help, shots like that could never have happened.  I had three cameras going at the same time at TOTALLY different locations very far apart from each other in the arena.
Thanks to my friend and film editor, Ian Jefferys, who did a fantastic job editing the film.  Thanks to my friend Jason Davoli for providing me with his music from his new CD for the soundtrack.  You can check out his new CD at www.jasondavoli.com. You can actually see Jason and Dan (who plays the fiddle in Free) and their band, Lowjack, performing at THON at 1:37 in my film. If you watch closely, you can even see me shooting them up close halfway into the shot.
I also took some stills.  Please go to photos.maxwellkruger.com/events/thon10/ to see the whole gallery and order prints.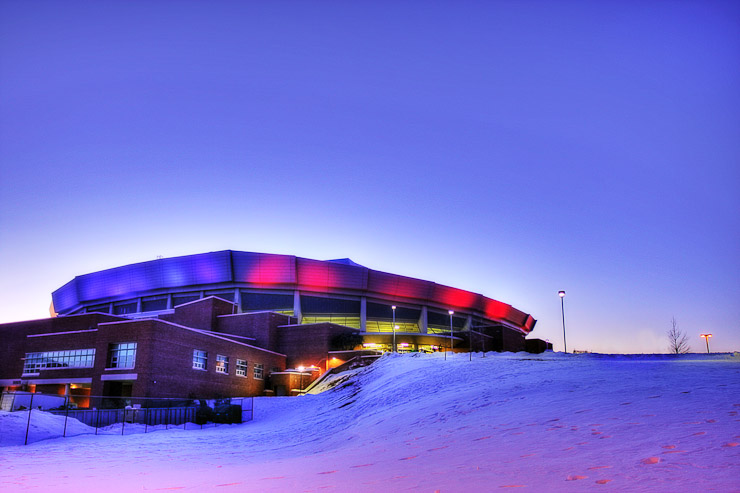 (Canon EOS 40D, 18 mm, , f/2.8, ISO 100)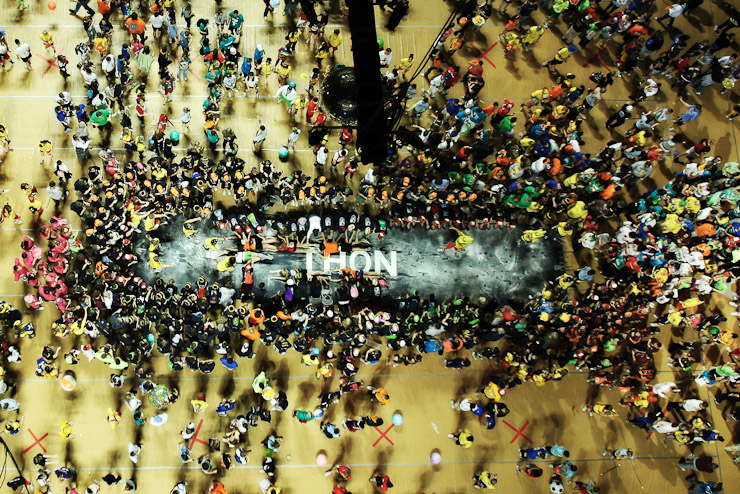 e
(Canon EOS 40D, 16 mm, 1/50, f/2.8, ISO 200)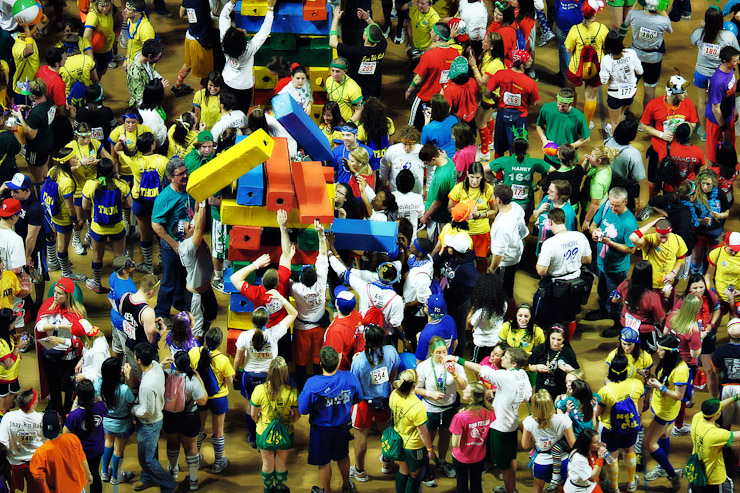 (Canon EOS 40D, 135 mm, 1/160, f/2, ISO 400)
I stitched together a few images to create this panoramic image.  Funny enough, I didn't even remember this, but when I was zooming in on it, Tucker Haas is performing on the stage.  You can see the photo bigger here.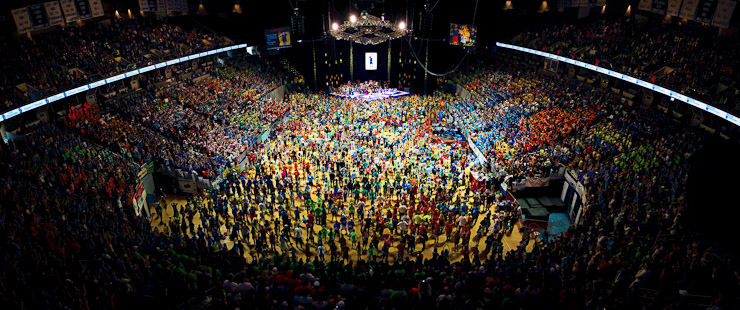 (Canon EOS-1D Mark IV, 4 17mm images, 1/60, f/4, ISO 640)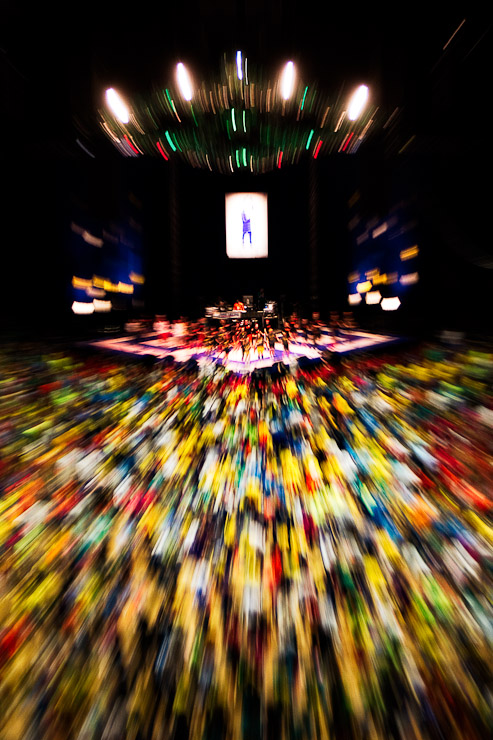 (Canon EOS-1D Mark IV, 29 mm, 1/60, f/4, ISO 640)
I thought it was cool that they created a heart.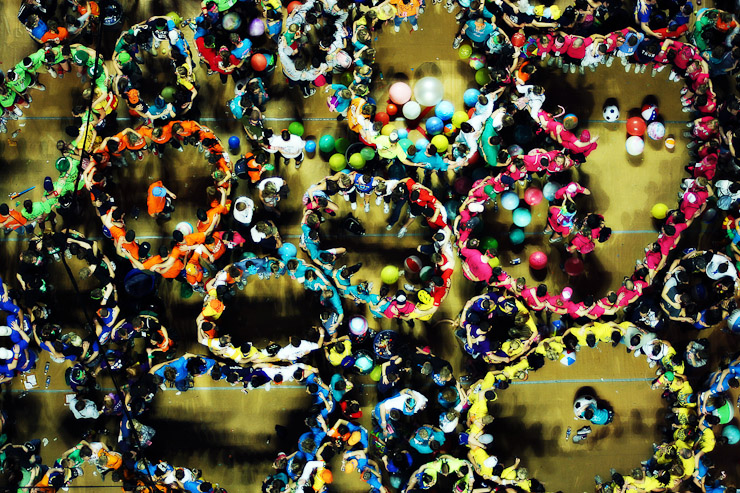 (Canon EOS 40D, 44 mm, 1/30, f/4.5, ISO 200)
The final line dance.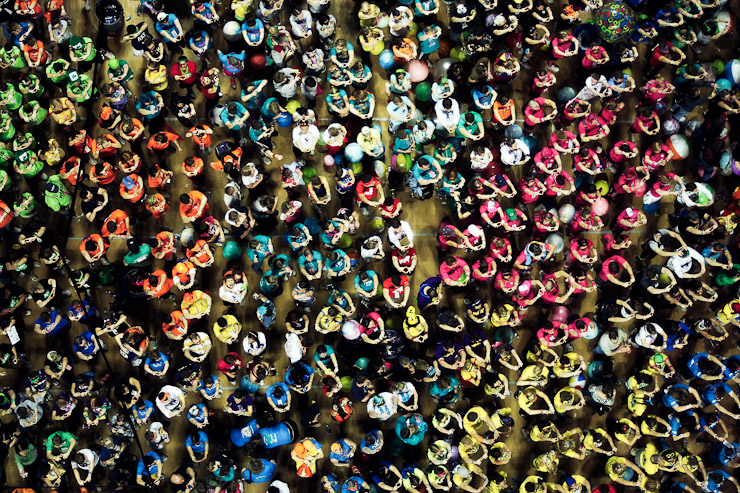 (Canon EOS 40D, 44 mm, 1/30, f/4.5, ISO 200)
I was one of the few people to know that there was going to be confetti shooting off during the announcement of the total because the stage crew was helping me with my cameras all weekend. I know they worked hard to create the confetti shooters and were excited about it. I thought it went really well and looked good.
I had to be up in the catwalk above the BJC so that I could move one of my cameras after it captured the sit-down to a different position to capture the final announcement. After everyone sat down, I quickly (but very safely) moved my camera to the other side of the catwalk and rushed all the way down to the floor (which included multiple ladders, a lot of stairs, and several crowds to wade through) to get in position to shoot the announcement with my handheld Canon 1D Mark IV. I didn't have enough time to get through all the people to the back so that I could get a straight-on shot, so my shot sucks. But I knew I had the backup shot from the top of the catwalk (see first image in this post), so I didn't feel too bad about it because I knew no one else had that shot.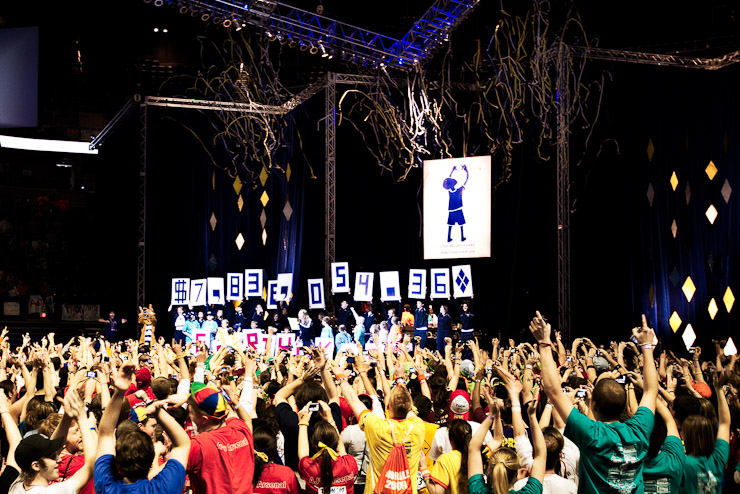 (Canon EOS-1D Mark IV, 31 mm, 1/100, f/2.8, ISO 800)
The mass of people trying to leave the Bryce Jordan Center.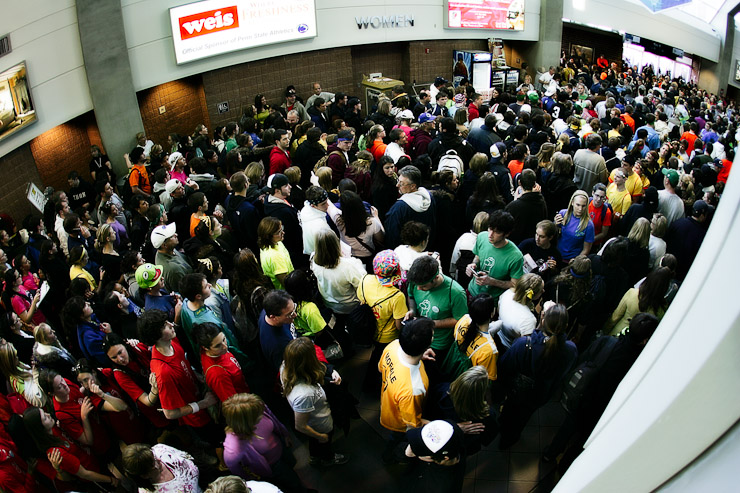 (Canon EOS-1D Mark II, 15 mm, 1/50, f/2.8, ISO 100)